Akron Barberton Belt Railroad History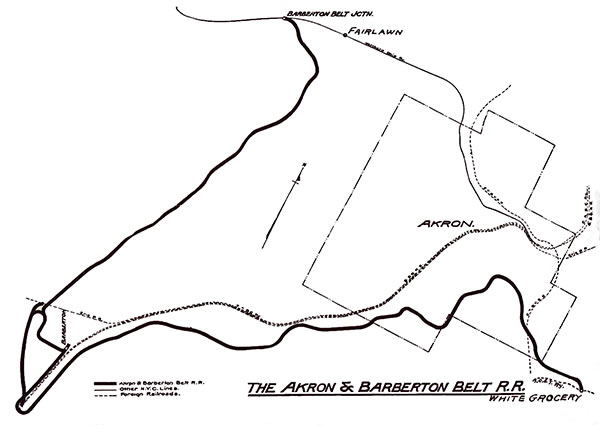 Early Plot Map of AB&B showing connection at White Grocery
The Akron & Barberton Belt (A&BB) was a switching and terminal railroad that formed an industrial belt in and around Akron, Ohio. The Akron and Barberton Belt Railroad's incorporation occurred on May 6, 1902. This incorporation was the consolidation of the Barberton Belt Line Railroad Company; The Cleveland, Barberton and Western Railroad Company; and The Barberton,
Akron and Eastern Belt Line Railroad Company. Through an accumulation of the consolidation, the total mileage of the Akron & Barberton Belt amounted to 22.96 miles.
O.C. Barber, the owner of the A&BB, sold the new company to a group of four railroads. The new controlling companies were; The Cleveland, Akron and Cincinnati Railway Company, The Baltimore and Ohio Rail Road Company, the Erie Railroad Company, and The Northern Ohio Railroad Company.
In 1904, the A&BB finished the line of the former Barberton Akron and Eastern Belt Line Railway Company. This construction completed the connection from Barberton to White Grocery. White's Grocery, long a gathering spot for traders and Saturday shoppers from local farms, was located at was is now the intersection of E. Market Street and Massillon Road.
In 1905, the Belt absorbed another local railroad. The Barberton & Southern was acquired and gave the A&BB a direct connection to the Pennsylvania and Erie Railroads.
Akron & Barberton Belt 2-6-0 "Mogul" Locomotive built by Baldwin. February 1906