COPLEY DEPOT
The Copley Depot at its present park like location. ©Photographer Robert Peacock 8-25-2011
The depot was built in 1891 by the Pittsburgh, Akron & Western (predecessor to the AC&Y) as part of a string of stations between Delphos and Akron. The location of the depot, though, was different than it is today. It was built on Sawmill Road, near South Cleveland-Massillon Road. In 1974, more than 20 years after passenger service ended, the railroad announced it would tear down the old depot. Copely residents recognized that the depot was an important part of Copley history.
They presuaded the railroad to halt demolition, and it said would grant the township the building if it would move the depot from its original site by June 1 of that year. The victory led the some Copley residents to form the Copley Historical Society in March 1974. The first task of the new group was to raise $1,900 to move the depot. "Save Our Station," as it was called, was successful, and the goal was reached. That May, the roof of the station was removed so the building would be able to clear utility lines during the move. The building was transported on a flatbed truck to township property on Copley Road just west of the Copley Circle. Twenty-five years later, in 2001, the depot was placed on the National Register of Historic Places. According to information form the Ohio Historical Society (OHS), the Victorian-era station was added to the register for its local architectural significance as an example of the Stick Style that was popular in Ohio from the 1870s to 1890s. The one-story frame depot has ornamental "stickwork" in the gables, which is the common feature of the style, according to the OHS.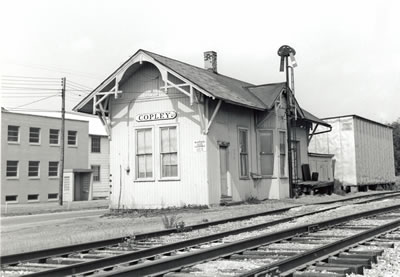 Copley Depot at its original location on Sawmill Rd.
The backside of the Copley Depot which is still by the tracks. ©Photographer Robert Peacock 8-25-2011