The Latest Iteration of the AC&Y
W&LE's AC&Y hertitage unit No. 107
The Wheeling & Lake Erie Railway's history shares a common thread with the AC&Y's history. It is the product of railroad consolidation. Not to be confused with the original Wheeling & Lake Erie, it does have roots in it. The original Wheeling & Lake Erie started out in 1871 as narrow gauge road Norwalk and Huron, Ohio. Unable to gain traffic or funding, it closed two years later.
In 1880, railroad promoter Jay Gould financially reorganized the line into a standard gauge road. The road faired better and began construction and expansion. A connection from Huron to Massillon was in 1882. 1891 saw a link between Steubenville and Martins Ferry, Ohio. This road gave W&LE an incidental connection to Wheeling Va. A route from Cleveland to Zanesville gave the W&LE its connection to Brewster where it opened its locomotive shop and headquarters. In 1899, the Cleveland Canton & Southern Railroad consolidated with the W&LE after its foreclosure.
The Nickel Plate Railroad leased the W&LE in 1949 for 99 Years. Railroad competition was fierce in the late 1950's. During this time the Nickel Plate, including the W&LE, studied the idea of a merger with the Norfolk & Western. With several other railroads including the AC&Y, the Nickel Plate and W&LE merged in 1964.
W&LE on the old AC&Y East Akron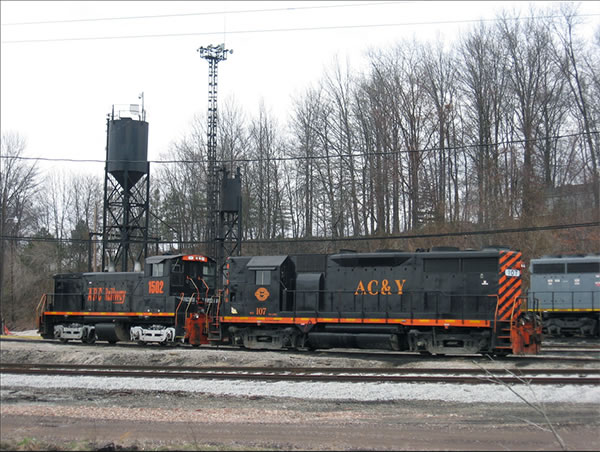 W&LE and Akron & Barberton Cluster Railway SW1500 No. 1502
The 1980's saw a new era of rail consolidation through deregulation. In 1982, the Norfolk & Western merged with the Southern Railway to better compete with CSX. This merger created the Norfolk Southern Railway. Continuing the consolidation, the Norfolk Southern sold off the routes from Bellevue to the Ohio River and most of the former W&LE, the AC&Y and the Pittsburgh and West Virginia Railway. In 1990, an investor group bought the Norfolk Southern property and created the today's Wheeling & Lake Erie Railway. This purchase created the largest Ohio Based Railroad; a class II Regional Railroad with 840 miles of Track.
W&LE on the old AC&Y Trestle Downtown Akron